This page shows some of the sponsors of "Astronomy at the Beach."
Cranbrook Institute of Science (see http://science.cranbrook.edu/)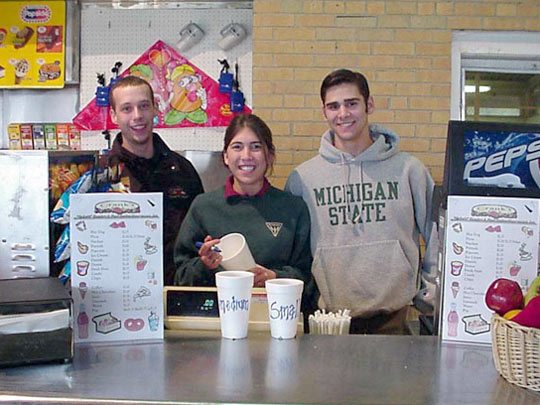 Kensington Metropark provides food and beverages during Astronomy at the Beach.
Kensington Metropark Nature Center's interpreter Mike Broughton shows visitors how to make a comet from dry ice and common household ingredients.
In addition a number of Michigan astronomy clubs contribute to Astronomy at the Beach. In most years there are astronomy videos, an astronomy scavenger hunt, general telescope observing and a variety of astronomy talks. The talks are aimed at a general audience and may include the following: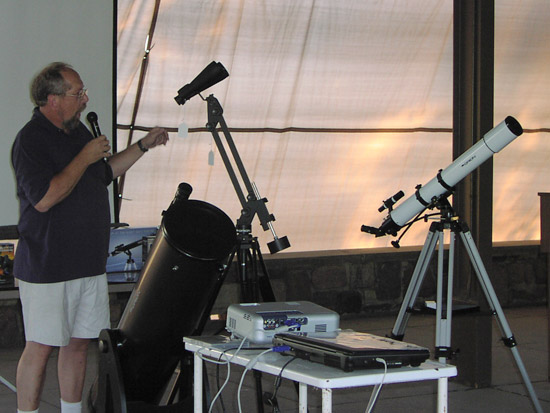 Basic Astronomy Equipment Talk—Learn about how to select a telescope. John Kirchhoff from Rider's Hobby Shops demonstrates different types of telescopes in his "Basic Equipment Talk."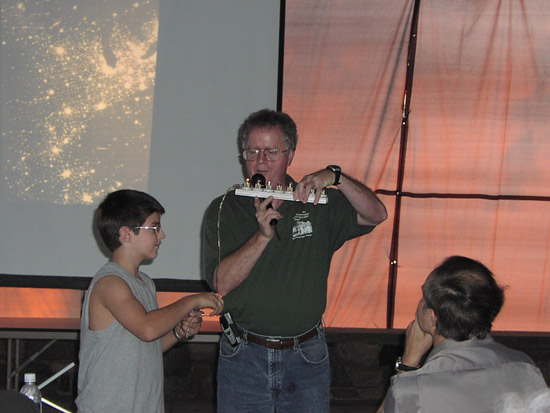 Our Vanishing Night—Learn about Light Pollution and what you can do about it. Norb Vance (and helper) demonstrate how a power plant works and what it takes to keep it running in his "Our Vanishing Night" talk.
Astronomy 101—A fascinating introduction to the science and hobby of amateur astronomy. Ford Amateur Astronomy Club member Greg Burnett takes us through a tour of the solar system and out into the universe.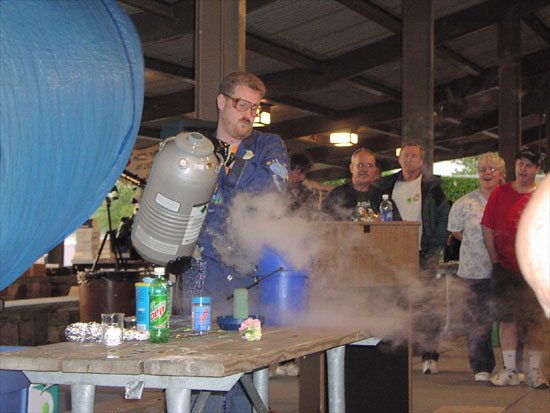 How Cold is Space?—A demonstration on what challenges the cold temperatures in outer space bring.
Pictures are not enough: See the 1 minute 43 second "How Cold is Space" Video. (The video shows just part of the 30 minute demonstration).
Not shown: Tour of the Constellations (learn how to find your way around the night sky). In addition, expert featured speakers are brought in to discuss contemporary astronomy related topics (i.e., astronauts, professional astronomers, space exploration scientists, etc.).
Photo Credits
Except for Astronomy 101, all photographs and videos on this page taken at Kensington Metropark during "Astronomy at the Beach." The photograph Astronomy 101 shows Greg Burnett giving an astronomy talk at Island Lake; this is essentially the same talk Greg has given several times for Astronomy at the Beach.
The following photographs were taken by:
Making a Comet—Greg Burnett
Cranbrook Institute of Science, Astronomy Equipment Talk, Light Pollution Talk, How Cold is Space?—Dave Snyder
Kensington Metropark Food Service, Astronomy 101—Al Bates